by: @dickiesalvatori - posted on:
With the NBA Finals fast approaching and the sport's Draft not too far away either, it's an exciting time for hoops lovers. These conference finals have contained plenty of blowouts, but the idea that we are headed toward a potentially fantastic Finals is evident.
Seeing the star power on display has been tremendous. But, for all four teams left, the role players involved are also massively important. Many of those players did arrive at their current destinations via trade or free agency, but it doesn't dispel the notion of acquiring top level home grown talent.
In the NBA perhaps more so than any other sport, the Draft can be inconsequential. With only so many title contenders in the mix every year, the bottom dwellers tend to experience sizable overhaul on a regular basis. Many players who led or were a major part of a title run often did not find success until later on in their careers and while with their third or even fourth teams.
But the Draft is still an incredibly important event in terms of talent evaluation and finding those impact bodies before others do. With this being the 2014 NBA Draft, we figured it wouldn't be a bad idea to take a step back and consider the 30th anniversary of what could be viewed as the NBA's most spectacular draft: the 1984 version.
Everyone knows the story at the top here. Hakeem Olajuwon went first overall to the Rockets. He went on to become a two time NBA champion, although that number could have been much higher had he not played in the same era as the third pick: Michael Jordan.
The shortcomings in Houston were more pronounced as a result of the West being absolutely packed with stellar clubs in the late 1980's and early 1990's. Still, Jordan came to dominate the scene for virtually the entire 1990's, and he is widely viewed as one of the best athletes in the history of sport.
The Bulls scooped up Jordan after the Blazers opted for Sam Bowie. Bowie was a F/C from Kentucky and, no matter what anyone says, was a logical pick for Portland. Injuries derailed his career and, funny enough, history repeated itself in the State of Oregon some 25 years later with Greg Oden.
While these top three picks were quite famous for a variety of factors, there was a sizable amount of additional talent which entered the league via this event. At number four, Dallas acquired Sam Perkins, a center who had as much perimeter ability as maybe anyone in the history of the league at that position.
Perkins spent seven years in Texas before going to the Lakers in 1990. Perkins also ran into Jordan in one NBA Finals with Seattle. He also failed to win a title when finishing up his career with Indiana as the Pacers fell to a young Lakers dynasty back in the early 2000's. Perkins took home one gold medal in 1984 and also played in several other international tournaments during his career.
While Dallas opted for Perkins, they could have also taken Charles Barkley, the fifth overall pick of the Philadelphia 76ers. Barkley spent nearly a decade in the "City of Brotherly Love," before shipping off to Phoenix where he, too, dropped an NBA Finals to Jordan and Co. He is widely considered one of the best rebounders ever and is a larger than life personality who has had strong influence in the media.
The rest of this draft was filled with plenty of so-so names, but there were four more impact bodies who came to prominence in this league. Alvin Robertson went to the Spurs at seven and made four All-Star games. He was the NBA defensive player of the year in 1986 and a 10,000 point scorer to boot.
Outside of Jordan, Robertson was one of the most effective guards in this class. But his accomplishments pale in comparison to that of pick number 16. John Stockton could be viewed as one of the most pure points in the history of the game and he helped spearhead a Jazz team to two NBA Finals.
The Spokane, WA native average 10.5 APG and defined the term consistency as it applied to the pick and roll. He was a master technician who excelled alongside Karl Malone. While he never won a title, his presence in the game made for two incredible Finals match-ups with Chicago during the late 90's.
Otis Thorpe (9th to Kansas City) and Kevin Willis (11th to Atlanta) are two other really good players who came from this group. Thorpe played on several quality Rockets teams alongside Olajuwon while Willis had one of the longest and most productive careers for any center in history (outside of maybe the aforementioned Perkins).
As we enter a new era within the league, it's important to remember that the "circle of life" always plays itself out. With LeBron James, Kevin Durant and others leading a charge toward a potentially golden era in the game, the possibility of us revisiting the quality play seen in the late 1980's and 1990's is certainly there.
Few eras during recent times have been as competitive and entertaining as what we saw during that stretch. Yes, Michael's Bulls ran the playground for the most part, but they were tested often. The Western Playoffs also became extremely competitive during, with teams like Houston, Seattle, Phoenix and Utah all vying for supremacy.
Many of these rosters had their success rooted in this very draft, and you cannot help but wonder if the cycle will repeat itself 30 years later. Next month's draft is seemingly stacked with up to 8-10 players who could all play valuable roles within this league in differing capacities.
Joel Embiid, Andrew Wiggins, Jabari Parker and Julius Randle are all considered serious prospects. Additionally, Noah Vonleh, Marcus Smart, Doug McDermott, Zach LaVine, Aaron Gordon, Gary Harris, Rodney Hood and Nik Stauskas could all morph into role players with contending clubs should they be presented the opportunity.
As the NBA evolved from roughly 2000 through that entire decade, we saw some laziness attached to the game. Players saw what the Lakers and Pistons were doing and the competition level throughout the league lacked depth, especially with expansion playing an added factor there.
One overriding factor in the decline of competition here went back to the style of play and commitment of players. Games were too defensive oriented, with pushing, grinding and shoving being a given.
Going back to the era that was produced out of the 1984 draft, we typically saw up and down games whereby players featured complete skillsets. The idea that a guy like Perkins could become such a deep threat seems almost ridiculous now given how raw many centers are. Barkley was only a modest 6'6, yet it did not stop him from dominating the glass through hard work and preparation.
Hopefully the current crop of players is not immune to a good history lesson. They would be well served to go back and study the 1984 class as it was one of the best of all time. The legends who came out of it were surely good when they threw their name into the draft hat so to speak, but they attained greatness through a love of the game that will hopefully be duplicated in coming seasons.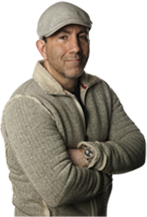 Subscribe today
and get MY MOVES.
Hey, I'm The Philly Godfather, your sports aficionado. Register to get my moves and learn how the real wise guys do their thing.